Parliament passes Dorset councils merger plan despite legal challenge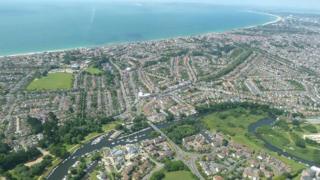 Parliament has passed legislation for Dorset's nine councils to merge into two unitary authorities.
Under the plans, due to come into effect next April, Bournemouth, Poole and Christchurch would merge.
A second council would be formed from Dorset County Council, East Dorset, North Dorset, Purbeck, Weymouth & Portland and West Dorset.
Christchurch Borough Council, which formally opposed the plans, has already launched a legal challenge.
In a joint statement, the leaders of the other eight councils described the passing of the legislation on Thursday as "an historic day for local government" in the county.
"These two new councils will have a stronger, co-ordinated voice when bidding for government funding and investment for things like road improvements, housing, schools and economic regeneration; the things that benefit an area for all those living within it."
Supporters of the changes said they could save £108m over six years.
Now the legislation has been approved, two shadow authorities - one for each new council - will be set up.
The Bournemouth, Christchurch and Poole shadow authority is made up of 125 seats, filled by all existing 120 councillors. Its first meeting takes place on 6 June.
The other shadow authority comprises 206 seats, occupied by 176 existing councillors. Its first meeting will be on 7 June.
In a letter to the council, the government described Christchurch Borough Council's attempt to halt the mergers as "absurd".
Christchurch said it had taken legal advice and had "an arguable case against the Secretary of State".
Christchurch Borough Council will now wait for a judge to make a decision about whether the judicial review should be heard in the High Court.