No fines issued in Poole begging crackdown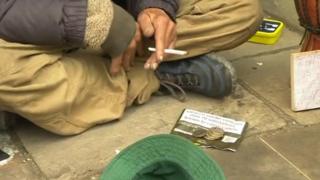 No fines have been given out for begging in a town since a new rule was introduced in April.
The Public Space Protection Orders (PSPOs) in Poole can also be handed out for street drinking and rough sleeping.
The Borough of Poole said it had given 57 verbal warnings, handed out 27 warning letters and instructed 13 people to leave an area since April.
There are plans to review the restrictions in October, the authority said.
Orders are in place in the town centre, including the High Street, Bus Station, Dolphin Centre, Old Orchard and The Quay.
The authority said the measure was brought in because the areas had the "highest levels" of anti-social behaviour in the borough.
Rough sleepers
Councillor Karen Rampton, cabinet member for social care, health and housing said: "Our approach is always to work positively and give advice to those individuals in the area and encourage them to access help and support services.
"A small number of individuals continue to ignore the advice, refusing support and persist with anti-social behaviour and this is being dealt with at this stage, using verbal and written warnings."
The council said since the measure was brought in four rough sleepers had been supported into accommodation.
Homeless charity St Mungo's said: "Our focus is on helping people sleeping rough in Poole to move away from the streets as quickly as possible and rebuild their lives.
"Rough sleeping is harmful to someone's health and we work closely with many partners to support people, including the council and health services."
The authority said a public consultation showed 50% of 279 respondents agreed with PSPO restrictions on begging and street drinking in the town centre.
Public Space Protection Orders
The orders, introduced in the Anti-Social Behaviour, Crime and Policing Act (2014), give councils extra powers to deal with "detrimental" and "persistent" behaviour
Examples have included using "foul and abusive language" (Salford) or "gathering in groups of two or more persons" (Hillingdon)
Fixed penalty fines of £100 can be issued by police or council officers
Non-payment can lead to a criminal record and a fine of up to £1,000
Described as "vague" and "disproportionately punitive" by campaign group Liberty, the government has said they can deal effectively with nuisance behaviour