Portland Hospital beds to shut ahead of NHS shake-up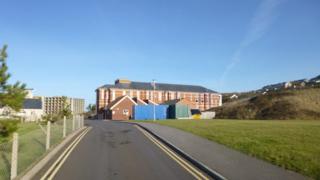 Community beds at a Dorset hospital are to close ahead of a planned shake-up of NHS services.
The changes at Portland Hospital are part of the reorganisation of Dorset's services which currently faces judicial review.
Save Portland Beds campaign group said Dorset HealthCare University NHS Foundation Trust told it in May the 16 beds would not close for a few years.
However, the trust said the beds would be axed "some time after" 7 August.
It comes just days after South Dorset MP Richard Drax asked Health Secretary Jeremy Hunt to "review the review" in order to save the hospital.
Save Portland Beds described it as "an enormous blow".
Dorset HealthCare said there had been difficulties in securing enough staff to operate the ward.
It said most of the beds at Portland were not used by islanders and local residents would get better hospital care if beds were transferred to Weymouth's Westhaven Hospital.
It added it would be working with GPs and the local community to see how Portland's services could be re-organised.
"Some of these may be on the Portland Hospital site, or they may be elsewhere on the island," it added.
Among the county-wide plans, which are expected to be implemented over the next four years, Poole Hospital will lose its A&E, maternity and paediatric services to Bournemouth, which will become the main emergency hospital.
Poole will become a centre for planned treatment and operations.
The changes are aimed at avoiding a projected funding shortfall estimated to be at least £158m a year by 2021.
Pressure group Defend Dorset NHS applied for a judicial review which was granted in March and is due to be heard in the High Court on 17 and 18 July.