Archaeologists make discoveries on day one of Dorset museum dig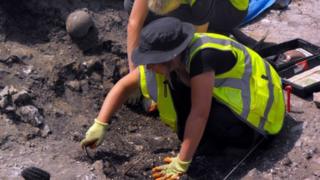 Archaeologists found Roman pottery and a centuries-old vase on their first day at the site of a planned extension to Dorset County Museum.
Excavations behind the museum in Dorchester's High Street began on Monday.
The dig follows demolition of several smaller buildings ahead of a £15m upgrade to the 19th Century, Grade I listed building.
The extension is due to be completed in 2020.
Richard McConnell of Context One Heritage and Archaeology said he anticipated the team would be there into August, depending on what was found.
He said: "There is a known Roman Road that runs through the site, although most of it is under buildings. We also have all the post-medieval intrusion.
"The pot is quite modern - 18th or 19th Century. We are in the very upper layers at the moment so we have to take it in chronological order.
"There's quite a lot of Roman material like pottery, but it's very mixed."
When complete, the extension will house new galleries to allow the museum to display more if its four million artefacts.
Currently only 1.5% of the collection can be be displayed.
The plans also include a learning centre, library, cafe and shop.
The project is being part funded by a £11.3m National Heritage Lottery Fund grant.