Dorset Unitary Council ward boundaries plan unveiled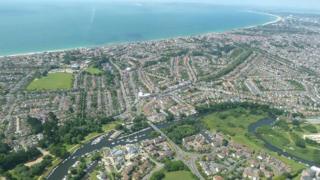 The number of councillors in Dorset will be cut from 330 to 158 under proposals by the boundary commission.
Residents are being consulted how the ward boundaries for two new unitary authorities will look when the existing nine councils are scrapped next year.
Bournemouth, Christchurch and Poole would have 76 seats, down from 120.
The new Dorset Council authority would have 82 councillors, replacing 210 seats across six councils, including Dorset County Council.
The consultations run until 27 August.
The independent Local Government Boundary Commission for England is asking residents their views on the proposals.
Commission chairman Prof Colin Mellors said: "Over the next eight weeks, we are asking people and organisations to tell us if they agree with the wards we have drawn or if not, how they can be improved.
"We want to build wards that make sense to local people and mean something to them. That is why we want to hear as much local evidence as possible before we finalise the plans in October."
If agreed the new wards would come into effect at the first elections for the two authorities in May 2019.
Parliament passed legislation for the merger in May.
Under the plans, Bournemouth, Poole and Christchurch would merge.
The second council would be formed from Dorset County Council, East Dorset, North Dorset, Purbeck, Weymouth & Portland and West Dorset.
Christchurch Borough Council, which formally opposed the plans, has launched a High Court legal challenge which is due to be heard this month.
Supporters of the changes said they could save £108m over six years.