Bridport art studios fire 'accidental'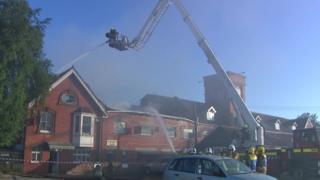 A fire in a building housing a number of art studios in Bridport was accidentally caused, the fire service has said.
The fire broke out in St Michael's Studios on Saturday night.
Dorset and Wiltshire Fire and Rescue Service said the likely cause was "an electrical issue or through refracted light on combustible materials".
The building is made up of workshops and exhibition space for more than 20 artists.
Station manager Sean Blizzard said: "Due to the damage at the premises we do not believe we can pinpoint the exact cause."
Many of those based in the building have lost all their work and materials in the fire.
Landscape artist Kit Glaisyer posted on social media: "We're all in a state of shock.
"I can still see my paintings on the walls, but I can't get in until the building has been made safe, and even then I don't know what is salvageable or how much I can retrieve."
Contemporary artist Peggy Cozzi posted: "I am still reeling - my studio and contents are unsalvageable."
Artists around the UK have launched fundraising campaigns for those in the building to help them restart their work. Many are also auctioning their art online to donate to the fundraising.