Murder probe after body found in woods in Poole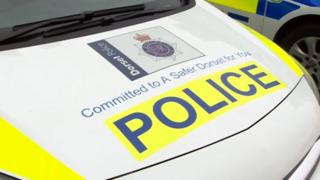 A murder investigation has been launched after a man was found dead in woods in Poole.
Dorset Police said the unidentified man's body was discovered off Leicester Road shortly after 14:00 BST. The area has been cordoned off.
Officers are also investigating how a woman in her 40s suffered critical injuries.
A 40-year-old man from Poole has been arrested on suspicion of murder and causing grievous bodily harm.
Police said officers had earlier received a report from a hospital that staff were concerned for the welfare of a female patient in her 40s who had been transferred to the critical care unit after being admitted to hospital on Saturday.
It has been reported that she had sustained bruising and had collapsed.
Det Ch Insp Steve Symms said: "These investigations are in the very early stages and at this time there is little more information we can give.
"I would like to reassure the public that our inquiries will be detailed and I would like to thank residents for their patience and understanding while we carry out our investigations."