Portland's Olympic rings sculpture 'could topple over'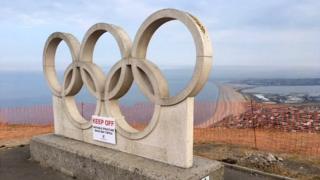 An Olympic rings sculpture in Portland has been cordoned off amid fears it could topple over if people continue climbing on it.
The stone structure was created to celebrate the London 2012 Olympics when Weymouth and Portland hosted the sailing events.
Its creator, Albion Stone, said there was "a significant risk of toppling" if people kept climbing the sculpture.
A temporary wooden fence is now being installed to keep people at a distance.
Weymouth & Portland Borough Council said its structural engineers had concerns related to "potential toppling/structural integrity as a result of people clambering over it".
A report said: "In this respect, the rings look extremely vulnerable if clambered on and it would do serious harm if to fall on someone."
Albion Stone's operations director Tony Porter said: "They were not intended to be climbed on when they were designed.
"Therefore, there is a significant risk of toppling if they continue to be loosened by excessive use in this way."
A temporary orange barrier has been erected around the rings along with a sign warning people to "keep off".
A wooden fence will replace the orange barrier as another short-term measure, with a longer-term deterrent yet to be determined.
Portland Town Council raised similar concerns in 2014 and a sign was attached to its base warning visitors not to climb on it.