Large barn fire creates smoke plume over Dorchester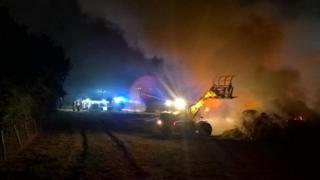 A barn containing hay has been wrecked by a fire, which created a large plume of smoke over Dorchester.
Firefighters were called to the blaze near Maiden Castle, Dorset, at about 20:30 BST on Sunday.
Six crews from four stations brought the flames under control before spending the night damping down.
People in Dorchester and Weymouth reported smelling smoke on Monday and there was reduced visibility on the A35 bypass and surrounding roads.
Residents have been advised to keep their doors and windows closed.