North Dorset council to sell Shaftesbury Cattle Market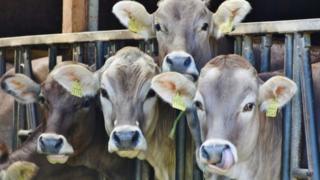 A district council is to sell a 60-year-old cattle market despite opposition from a town council.
In an open letter to Shaftesbury Town Council, North Dorset District Council's Martin Hamilton said the sale of the town's cattle market would not be suspended despite its request.
A sale was agreed with an unnamed supermarket chain in April.
Mr Hamilton said any action to delay it could "compromise" the sale.
Judicial review
The cattle market, off Christys Lane, was established in 1955. Southern Counties Auctioneers (SCA) has leased the district council-owned site since 1967.
Cattle sales were in decline and markets were held fortnightly rather than weekly, the district council said.
Shaftesbury residents recently agreed to hold a poll to discuss whether the town council should fund a judicial review over the sale of the site.
Mr Hamilton described it as "regrettable" but added it would run "shortly".
"It has taken considerable time and energy to get to secure agreement with SCA to bring forward the sale of this site," he added.
"Any action now to delay the process pending community consultation would risk compromising this work and send an unhelpful signal to those minded to invest in Shaftesbury.
"For these reasons, I am not prepared to suspend the sale process. I will continue to keep the town council informed of the progress of the sale."
Shaftesbury Town Council said it was waiting for the outcome of the parish poll - which is not binding on the council - before making any comment.