Fire at Canford Recycling Centre in Poole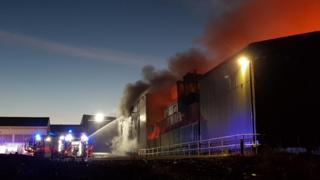 A large fire has ripped through a recycling centre in Dorset.
The blaze at Canford Recycling Centre on Arena Way, Poole, started at about 21:40 BST on Monday and smoke plumes from the fire were seen from several miles away.
Residents in the Merley and Bearwood areas were advised to keep their doors and windows closed.
Fire crews remain at the scene, although the blaze is now out. No-one was injured.