Patient data breach after bag stolen at Poole Hospital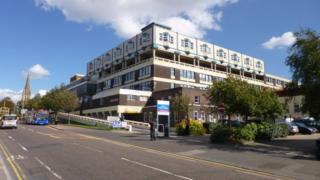 Patients' details were inside a bag which was stolen in an NHS hospital, it has emerged.
The bag, which contained the personal information of "a number of patients", was stolen in Dorset's Poole Hospital, a report by its trust said.
It was "discarded and hidden within the hospital" and the documents recovered, according to a Bournemouth Echo report.
Poole Hospital NHS Foundation Trust said it "considers any information breach as a very serious matter".
The breach happened on 21 June but the trust has not given any further information as to why the items may have been hidden.
The report, for a meeting of its board directors, said the stolen items were not believed to have left the premises.
It added the theft was being investigated and had been reported to the Information Commissioner's Office (ICO) and the police.
A letter has been sent to all affected patients "apologising for the upset this must inevitably have caused", while clinical staff have been reminded about patient data security, the trust said.