Ex-GP David Crichton fined £6,000 over suicide threats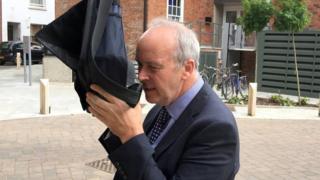 A former GP and church warden has been fined £6,000 for sending suicide threats to a financial adviser he partly blamed for a £1m loss.
Dr David Crichton, 64, was previously cleared by a jury of attempting to hire a hitman to murder Andrew Bolden.
But he was found guilty at Winchester Crown Court of three counts of sending malicious communications.
Mr Justice Dingemans said Crichton, from Bournemouth, had become "self-absorbed in the extreme".
He issued the fine, ordered Crichton to pay £1,500 of prosecution costs and imposed an injunction banning him from contacting Mr Bolden or his colleagues.
"You became obsessed with your own feelings and what would make you feel better and not anyone else's feelings, including Mr Bolden's," the judge said.
During his trial, Crichton admitted entering Andrew Bolden's name and Edinburgh address on a site on the dark web which offered contract killers for hire.
Crichton denied he had selected a $5,000 option labelled "Kill the bastard".
Simon Jones, prosecuting, told the court Crichton, who suffers from depression, sent hundreds of emails to Mr Bolden in 2017 as part of a "vendetta" which led to his address to be blocked.
'Previous exemplary life'
He said Crichton had two text messages and made a telephone call to Mr Bolden, which make up the malicious communication charges, during which he threatened suicide and said: "You are the only person who can help save my life."
David Wood, defending, said Crichton had been "attempting to address the demons in his own head when nothing the clinical physicians had offered had worked".
The judge said the defendant had previously lived an "exemplary life" but his grievance had "spiralled out of control".
Following Wednesday's verdicts, Mr Bolden - who was cleared of giving wrong guidance - said the last few months had been "challenging" for him and his family.