Blandford crash death girl's mum 'hid alcoholism'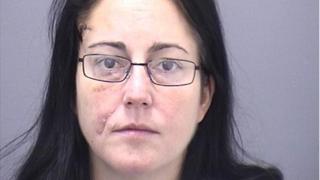 A mother who killed her three-year-old daughter in a crash while drunk was an alcoholic with a history of drinking and driving, a report has found.
Louisa Pike was fatally injured in the crash on the A354 near Blandford, Dorset, in August last year.
Alanda Pike was jailed for six years and four months for causing her death.
Dorset Safeguarding Children Board (DSCB) said different agencies had been involved with the family but "key links" were not made.
The serious case review - which referred to Louisa as "Child S" - said Pike had concealed her alcoholism, but while pregnant in 2014 she was banned from driving after being caught four times over the drink-drive limit.
Vodka and cocaine
In April 2016, police were also called when a "heavily intoxicated" Pike dropped her baby in a supermarket, the report said.
It said police received anonymous calls claiming Pike was driving while drunk and, on one occasion, she was reported for failing to stop after hitting a cyclist, but a lack of evidence meant no action was taken.
The report said the girl's preschool raised concerns but social workers found the girl "happy and talkative".
Early on 24 August 2017, Pike crashed into a van at Thickthorn Cross, seriously injuring the driver. Her daughter was airlifted to hospital with head injuries but died the next day.
Pike admitted causing death and serious injury by dangerous driving and driving with excess alcohol.
Bournemouth Crown Court heard she had drunk half a 200ml bottle of vodka and had been drinking and taking cocaine the previous evening.
The report said some issues highlighted in the review had already improved including the introduction of a single point of contact for safeguarding concerns.
It said midwives were also expected to gather history in the early stages of pregnancy.
Independent chairwoman Sarah Elliott said: "Although different agencies had been involved with the mother at different times, key links were not being made.
"It really does bring home the need for professionals to be curious and share information with one another, so they can consider the whole picture to help keep children safe."