Bournemouth killer loses appeal over NHS damages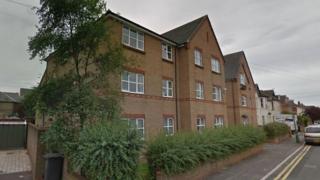 A woman with paranoid schizophrenia who stabbed her own mother to death has lost an appeal hearing in a claim against her NHS carers.
Ecila Henderson killed 69-year-old Rosemary Armstrong in Pokesdown, Bournemouth, in August 2010.
Dorset Healthcare University NHS Trust admitted the death was partly a result of its own care failures.
But Appeal Court judges ruled Henderson could not claim damages arising from her crime.
Henderson's mother was stabbed 22 times with a large kitchen knife after coming to check on her daughter at a flat in Queensland Road.
Henderson, who was suffering from a "serious psychotic episode", then walked down the road covered in blood and "twirling the knife", according to one witness.
A police officer disarmed her using an incapacitant spray.
Henderson was subsequently convicted of manslaughter on the grounds of diminished responsibility.
An NHS inquiry found that the killing was "forseeable" and that carers failed to respond adequately to signs of Ms Henderson's deteriorating mental health.
She subsequently claimed in 2013 and 2014 for various damages including her loss of liberty and a share of her late mother's estate.
Illegality
Her claims were rejected by a High Court judge in 2016.
Henderson, now aged 46, appealed at a hearing in July, hoping to overturn a legal principle which prevents a person from benefitting from their crimes.
In their reserved ruling, three Appeal Court judges upheld the principle, known as "illegality", and rejected her claim.
But they said the parties in the case had agreed that the "tragic event would not have happened but for the Trust's breaches of duty in failing to respond in an appropriate way to Ms Henderson's mental collapse".