Alderholt development plans: 'Villagers will move away'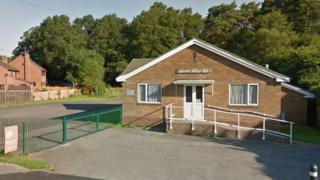 Proposals to more than double the size of a village in Dorset will lead to an exodus, residents claim.
East Dorset District Council's local plan proposes building more than 1,000 homes in Alderholt, near Fordingbridge.
At a packed meeting of Alderholt Parish Council, councillor Gina Logan urged her colleagues to accept the plan but add caveats to boost transport, employment and infrastructure.
But councillors voted to object to the scheme in its entirety.
More than 250 residents attended the meeting on Monday, with many standing and dozens more outside.
'Sitting ducks'
They claim the scale of the development would destroy the character of the village, which currently has 900 houses, and its infrastructure could not cope.
Ms Logan, who sits on both the parish and district councils, told the meeting the growth of the village was inevitable, adding: "We are sitting ducks for development - I'm sorry but that's just the commercial reality."
After the meeting, Angela Cannal, who owns a stables business in the village, said: "The parish council, in reality, have very little control over this situation and it does seem like the voice of the residents is going to be ignored to a large degree.
"I imagine that a lot of the local residents will move out if a large number of houses come to the area.
"If there aren't the facilities, why would you move here unless you want to move to a rural location - which it will cease to be if you add in all these houses."
A consultation on the plans ended on Monday.
East Dorset District Council's next step is to submit a report to the government but any detailed plans will have to wait until the new unitary authority takes over in April, when Dorset's nine councils merge into two.