Record patient numbers at Poole Hospital's closing A&E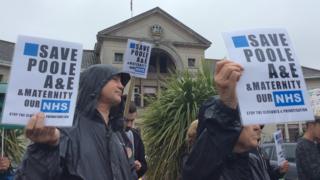 A hospital's A&E department which is due to close was attended by a record number of patients on Saturday.
Poole Hospital's A&E unit dealt with 235 patients across the day, as well as receiving 77 ambulances, bosses said.
One visitor reported a 14-hour wait in the department by Sunday morning, although the hospital said the average waiting time was four hours.
The A&E service is set to move from Poole to Bournemouth under a shake-up of healthcare in Dorset.
Poole Hospital's chief operating officer Mark Mould thanked staff for ensuring "safe care" was provided at the weekend in the face of "operational challenge".
The emergency department move is one of a raft of measures planned by Dorset Clinical Commissioning Group (CCG) to try to avoid a projected funding shortfall of £158m by 2021.
Nearly 25,000 people signed a petition asking the CCG to keep Poole Hospital A&E and maternity departments open.
A legal challenge to the changes was rejected by the High Court last week.
The hospital said there was no particular reason for the "unprecedented demand" over the weekend.
One visitor to the hospital on Saturday night claimed "ambulance trolleys queued down the corridor" and there were "nowhere near" enough doctors and nurses.
Under the healthcare shake-up, Poole would become a "planned care" hospital, although it would retain a 24-hour "urgent care centre" for less serious emergencies.
Dorset CCG said the creation of specialist centres would save lives.
The changes will be brought in over the next five years.