Kimmeridge methane release oil well 'must shut down'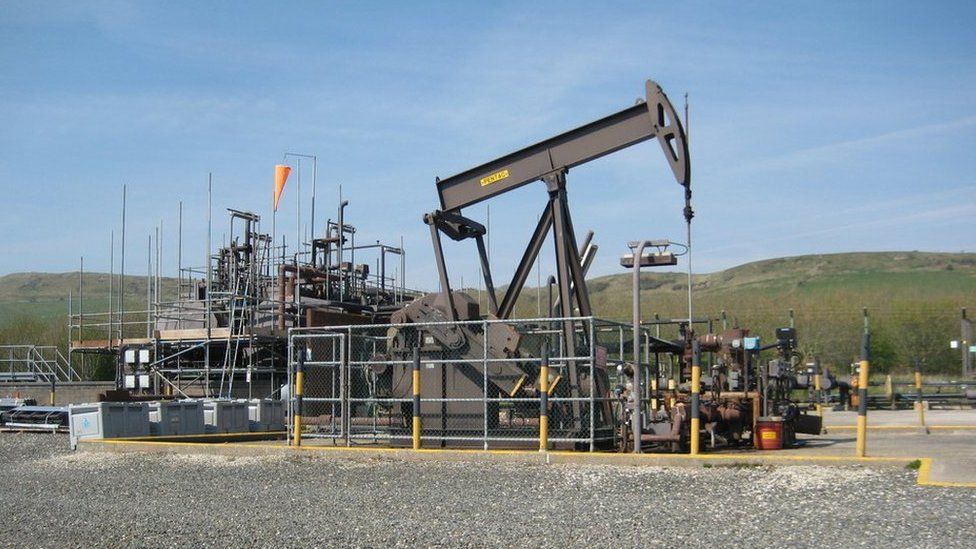 Campaigners are calling for the closure of an oil well on Dorset's Jurassic Coast after it emerged it has been releasing tonnes of greenhouse gases.
The "nodding donkey" well has been extracting oil at Kimmeridge Bay for nearly six decades.
A Freedom of Information request showed it legally released an estimated 284 tonnes of methane in 2017.
Operator Perenco said the well was not currently producing oil but it was looking at ways of reducing emissions.
The installation - believed to be the oldest working oil pump in the UK - produced 3,179 tonnes of crude oil in 2017, according to the Environment Agency.
Stuart Lane, from the Fossil Free Dorset campaign group which requested the figures, described the deliberate venting of methane contained in the oil as "atmospheric vandalism".
The group said the amount of methane, which is many times more potent than carbon dioxide, was equal to the carbon emissions generated by 112,500 people.
A Perenco spokesman said: "Although the Kimmeridge well is not currently producing, when production recommences we will ensure we continue to operate in line with the regulator's permit conditions and ensure that any gas emissions are minimised through regular maintenance and inspection.
"Although no decisions have yet been made, we have also been reviewing a number of ways to invest in the well site at Kimmeridge in order to further reduce gas emissions, such as gas compression or temporary storage at the site."
An Environment Agency spokesman said: "The site operators have tried a number of different technologies to reduce the volume of methane escaping but none have proved cost-effective."
The agency said it was considering a revised permit application for the well and such sites would be required to produce improvement plans to better utilise all available gas.
Related Internet Links
The BBC is not responsible for the content of external sites.