Dorset man killed by sea snake in Australia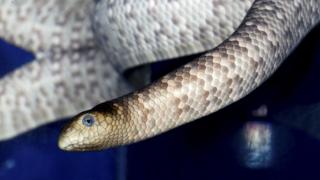 A British man who died after being bitten by a sea snake in Australia was "living his dream" working on a fishing boat, his mother said.
Harry Evans, 23, from Poole, Dorset, was bitten while working on a trawler off the coast of the Northern Territory on Thursday.
Emergency crews were called to the boat, near island Groote Eylandt, but were unable to save him.
His mother, Sharon Evans, said he was "working in a job he loved".
Mr Evans was bitten by the venomous snake while pulling a net onto the boat at about 09:00 local time, police said.
His mother told the Press Association: "We know Harry was bitten by a snake and died.
"Harry was not a backpacker, he was working in a job he loved and was living his dream.
"He had contact with his family and friends at home regularly and couldn't have been any more loved. We couldn't have been prouder of him."
Friend George Jackson-Carter posted on Facebook: "RIP Harry Evans, you were one of the most kind-hearted and funniest people I've ever met. Always made everyone laugh and smile."
The Foreign and Commonwealth Office said: "We are supporting the family of a British man who had died in the Northern Territory and are in contact with the Australian authorities."
Sea snakes are highly venomous, but because of their limited contact with humans, bites are relatively rare.
Blanche D'Anastasi, who researches the animal at James Cook University, had said she believed Australia had no previously recorded deaths from sea snakes.
Associate Prof Bryan Fry, from University of Queensland, had described it as a "tragically unlucky accident".