Alistair Collier: Kayaker's family raise funds for the RNLI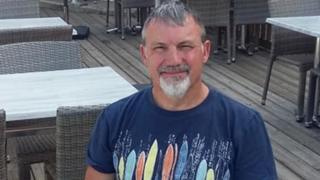 The family of a kayaker who died during a race off the Dorset coast have raised nearly £5,000 for the RNLI.
Alistair Collier, 60, from Worcester, was last seen at midday on Saturday at the start of a race at Knoll Beach, Studland.
Organisers raised the alarm when Mr Collier did not complete the race to Swanage Pier, prompting a large-scale search of the coast.
His body was found on Sunday 22 miles from the shore, alongside his kayak.
Mr Collier's family said he became separated from the racing group due to the "adverse weather conditions".
They have met up with some of the crew members who took part in the search for Mr Collier to express their thanks and have also set up the fundraising page.
Respect and gratitude
They said: "We would like to raise money for the RNLI in thanks for their enormous support at this tragic time.
"We could not imagine how much worse our experience would have been without their [RNLI and Coastguard] expertise, support and condolences.
"Every single possible resource was deployed and we have such a huge amount of respect and gratitude for those who dedicate their time and energy to providing safety for those at sea. We have all seen how cruel it can be."
The search for Mr Collier involved an aircraft, helicopter, four coastguard rescue teams and three lifeboats.
His body was found by the aircraft crew after the search was widened on Sunday. He was recovered from the sea by the warship HMS Tyne.