Bournemouth Winter Gardens £150m revamp plans approved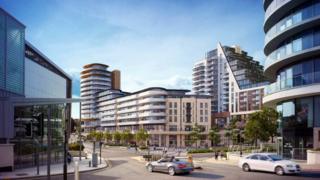 The site of a former music venue, which once hosted the Beatles and the Rolling Stones, is to be transformed into a £150m leisure and homes complex.
The plan for 352 apartments in four blocks on the former Winter Gardens site has been approved by Bournemouth Borough Council.
The town centre scheme will also include up to five restaurants, a food store and outdoor cafes.
The concert hall closed in 2002 and was demolished four years later.
Planners had previously rejected plans to redevelop the site in 2013 and 2012.
Much of the 1.98 hectare (4.89 acre) site has since been used as a car park, which will be replaced by below-ground parking spaces.
The scheme is the latest approved venture from the Bournemouth Development Company (BDC), which is jointly owned by the council and Morgan Sindall Investments Ltd.
BDC director Duncan Johnston said the Winter Gardens regeneration would "create new jobs and encourage more visitor numbers".
Council leader John Beesley said the town had seen "unprecedented levels of development" since BDC was formed in 2013.
He said schemes worth £300m had been completed, including student flats in Madeira Road and two housing sites.