Poole Twin Sails bridge: Component firm 'in liquidation'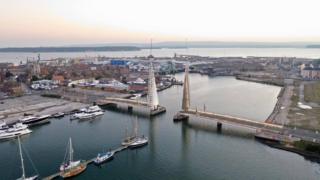 A company involved in the manufacture of components for Poole's Twin Sails bridge has gone into liquidation, the borough council has said.
The lifting bridge, which links Poole with Hamworthy, has been closed for three weeks since it began making a grating noise while being raised.
Borough of Poole said it was in talks with a new firm over the hydraulic parts but had no repairs timetable.
Engineers visited the site on Thursday but are yet to establish what is wrong.
The council previously said the noise was coming from a hydraulic cylinder on the Hamworthy side and warned the problem was "serious" and "not easily rectified".
Drivers are being told to use nearby Poole Bridge until the issue is resolved.
The £37m Twin Sails Bridge opened in 2012 and was initially beset with defects including sections of the road falling off as it was raised.
A number of firms were involved in its construction but the council is yet to confirm which one has gone out of business.
The bridge and nearby Poole Bridge enable drivers to avoid a six-mile detour around Holes Bay while allowing boats to pass between that bay and Poole Bay.