Bomb squad searches Wimborne home over chemical find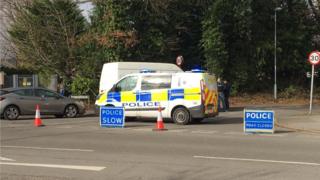 Homes were evacuated, a petrol station was shut and bomb disposal experts searched a house after "unknown chemical substances" were found.
Police were called to Hayes Close in Wimborne at 03:15 GMT over fears for the welfare of a man.
The house was found to contain "suspicious items", police said.
A 59-year-old man, who was originally taken to hospital for a welfare assessment, has been arrested under the Explosive Substances Act.
Dorset Police cordoned off an area around the road and said searches were expected to take some time.
The Shell petrol station on Wimborne Road West was shut by police as a precaution, while Hayes Lane was also closed.
Nick Wellstead, who has lived in Hayes Lane for 10 years, said: "I came out this morning and all of a sudden the road was completely blocked. There were police everywhere, undercover police.
"I jokingly said 'oh my God there's a bomb squad here' but then I thought I probably shouldn't joke about things like that.
"People can't get out to work, no-one can move from that road."
Dorset County Council confirmed on Tuesday evening that the cordon had been lifted and residents allowed to return to their homes.