Alliance takes control of new BCP Council in Dorset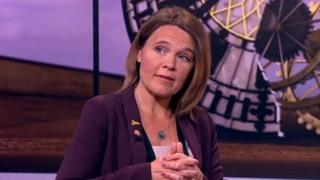 A Liberal Democrat has been elected to lead a newly-created council, which was formed when three Conservative-controlled authorities merged.
No single party won overall control of Bournemouth, Christchurch and Poole (BCP) Council in May's local elections.
The Tories won 36 of the authority's 76 seats, becoming the largest party.
However an alliance of Lib Dem, Labour, Green and Independent councillors voted together to install Vikki Slade as the authority's first-ever leader.
BCP Council was formed when Dorset's nine authorities were merged into two in April in a bid to save money.
The new Unity Alliance administration comprises 39 councillors from the Liberal Democrats (15), Christchurch Independents (8), Poole People (7), other Independents (3), Labour (3) and Green (2) parties, and the Alliance for Local Living (1).
The authority's first meeting was held at Bournemouth University because existing council chambers are too small.
Bournemouth's council chamber can only accommodate 70 people.
The university's Lees Lecture Theatre has a capacity of 254 and, according to its website, costs £475 to hire for four hours or £750 for a full day.