Trapped 'Danny the Dolphin' freed by fisherman off Swanage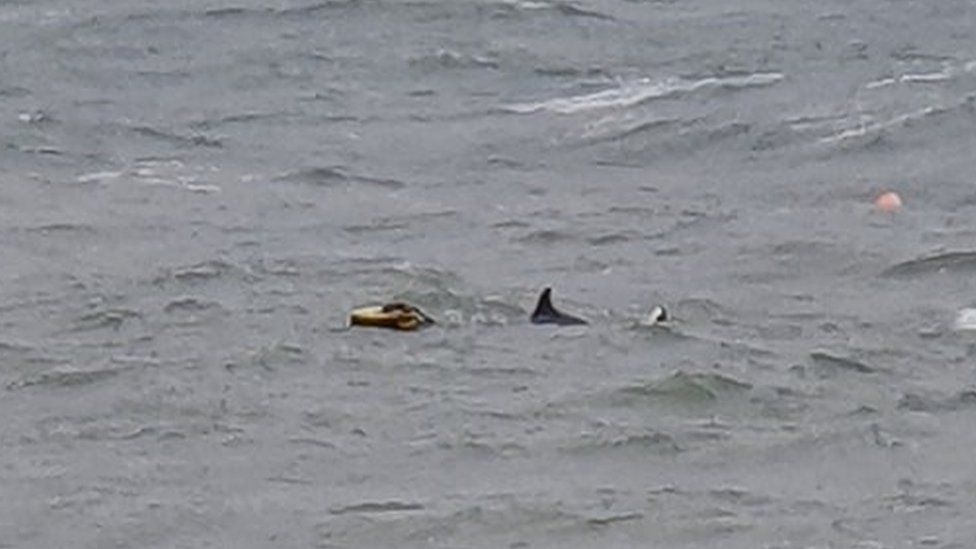 A fisherman has freed a dolphin that spent two days trapped on a buoy off the Dorset coast.
Attempts to rescue the creature, which had been stuck 131ft (40m) off Swanage Pier since Tuesday, had been hampered by high winds and dangerous swells.
It is believed the animal is the locally-famous Danny the Dolphin - a regular visitor to the area.
The fisherman, Will Chellingworth, said he "wouldn't have dreamed" of braving the conditions in normal circumstances.
He said the sea was "swelly with metre-and-a-half waves" as he sailed his powered dinghy to the dolphin which was trapped by rope on a yacht mooring.
Mr Chellingworth, 33, untangled the rope from the "badly-chafed" mammal's tail and said it swam around for several minutes before swimming off.
Maria Munn, from British Divers Marine Life Rescue (BDMLR), earlier said conditions were beyond limits for an inshore boat and swimming was also too dangerous.
She said BDMLR medics had been monitoring the dolphin since 09:00 GMT and were "hoping for a miracle".
The RNLI was also unable to launch its inshore lifeboat.
One witness, Annabelle Wilding, feared the dolphin would drown and said watching it struggle was "absolutely heartbreaking".
Mr Chellingworth, who is a professional beekeeper, said 'Danny' was a regular sight on the Dorset coast.
The solitary dolphin also has a Facebook group with about 2,000 members who, upon hearing of Danny's plight, filled the page with appeals for help.
Simon Dennis, from BDMLR, posted a message to the group at 17:00 GMT saying: "We can now confirm Danny has been freed by a local fisherman.
"Hopefully he will have the strength to feed and recover, however this is not a guarantee and we will remain alert."
Related Internet Links
The BBC is not responsible for the content of external sites.