Dinah's Hollow landslip works could last seven months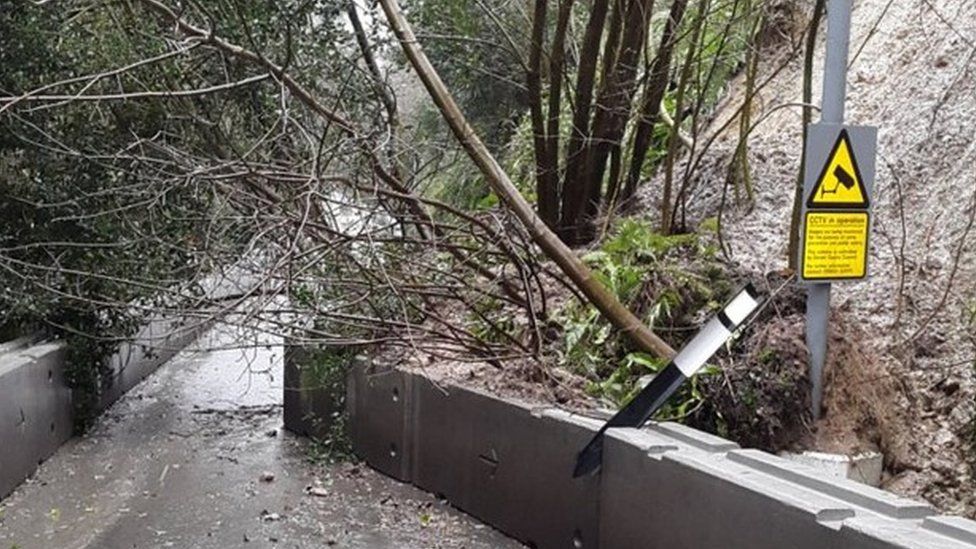 A main route through Dorset that has undergone lengthy closures to tackle landslides could shut again for more works lasting at least seven months.
Dorset Council has been warned the steep banks either side of the C13 at Melbury Abbas, near Shaftesbury, could suffer a landslip at any time.
The road - a key route used by HGVs - was closed for stabilisation works from April 2014 until July 2015.
It was also blocked for a month in 2016 following a large landslip.
The Local Democracy Reporting Service said Dorset Council was considering buying land on the east side of Dinah's Hollow at a cost of £130,000 so it could carry out drainage works in the short-term while a longer-term plan, which could cost £4.5m, was considered.
Ward councillors Jane Somper and Sherry Jespersen told a cabinet meeting on Tuesday that residents were concerned the works would leave the village cut off, displace traffic to neighbouring roads and lead to the widespread removal of trees.
Highways councillor Ray Bryan said residents and councillors would be consulted, adding he had "great concerns over the potential repercussions" of the instability of the slopes.
"I have the responsibility, as portfolio holder for highways, to ensure we have a safe and secure network," he said.
"It's no secret we are in a period of climate change and that being the case these slopes will become more vulnerable."
As well as problems with landslides, Melbury Abbas villagers have endured numerous lorries getting stuck further down the narrow lane.
Related Internet Links
The BBC is not responsible for the content of external sites.