Durdle Door arch base jumper defends 'calculated' leap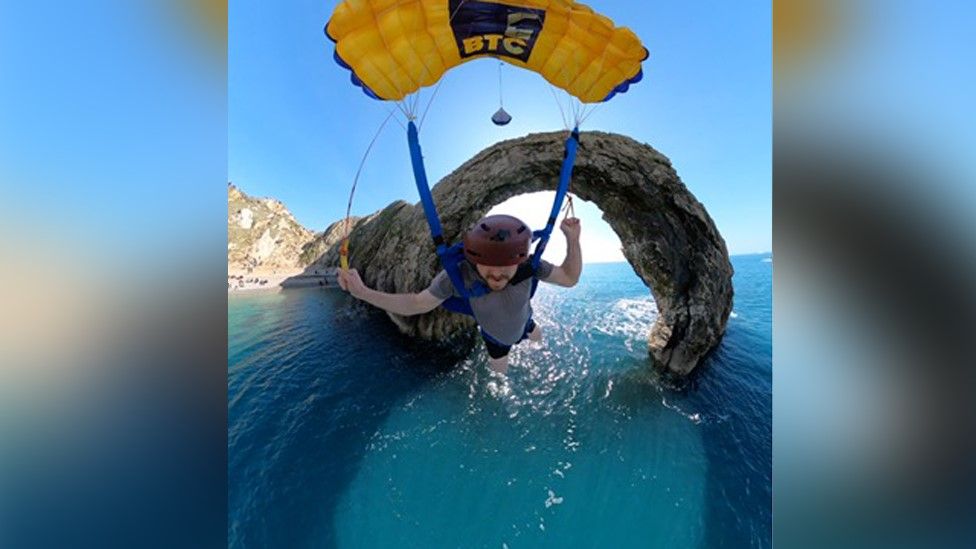 A man who parachuted 20m (70ft) off a rock arch has defended his actions as "calculated".
Two men were seen climbing up Durdle Door on the Dorset coast and jumped off at about 10:30 BST on Easter Sunday.
Speaking to the BBC, the man said sea and wind conditions were "perfect" and the coastguard had been informed.
Signs are in place warning people not to climb Durdle Door.
The base jumper, who gave his name only as Calum, described himself as an "experienced" base jumper, having done more than 200 jumps.
He was one of two men who leapt from Durdle Door wearing shorts, T-shirts and safety helmets, with a "ground crew" on the beach.
"Base jumping is a sport, it comes with risks but we mitigate that as much as possible," Calum said.
"We always wait for the perfect wind conditions. It may look quite reckless but it's actually calculated.
"We did ignore the [warning] signs. As far as we are aware it is access land. We are pretty experienced mountaineers and thought it was well within the realms of our ability to climb it safely.
"Ideally we'd have liked it to have been less busy, but we're always looking at the weather, not how many people are there and, unfortunately, that has given us some bad headlines."
He said a call was made to inform the coastguard shortly before the jump was made, which was confirmed by the HM Coastguard.
In a statement, it added visitors to the coast should "not take any unnecessary risks which could put you, your family, friends and frontline responders, in danger".
James Weld, who manages the Lulworth Estate, said the jumpers' actions were "abusing coastal access, damaging our environment and, albeit indirectly by encouragement, contributing to the potential death and injury of others".
Related Internet Links
The BBC is not responsible for the content of external sites.