New location for Lyme Regis Mary Anning statue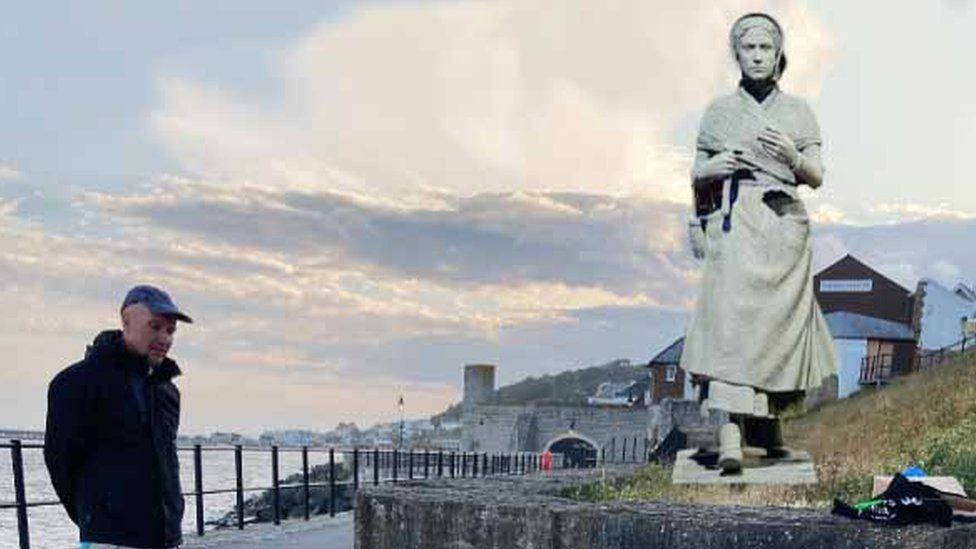 A new location for a statue of Dorset palaeontologist Mary Anning has been chosen in her former hometown.
The Mary Anning Rocks campaign said it would seek planning consent for a spot above Church Cliff Beach in Lyme Regis.
The statue, due to be unveiled on 21 May on Anning's 222nd birthday, was originally intended to be installed next to the Marine Theatre.
Campaigners said they had now given artist Denise Dutton the go-ahead to begin work on the full-size sculpture.
Charity trustee Anya Pearson - who helped daughter Evie Swire launch the campaign - said the new location was "far superior" as it "sets Mary well and truly in the landscape where she worked".
She said the charity's planning consultants expected to submit an application to Dorset Council "by the end of the year, if not sooner".
Ms Dutton has also begun making the framework for the final sculpture.
Ms Pearson said: "If we didn't allow Denise to start, we would never hit our unveil date of 21st May 2022 so, although we don't have planning consent just yet, we felt it was the right thing to do."
Mary Anning Rocks has raised more than £100,000 for the bronze statue.
She was born in 1799 to a poor, working-class family, but made numerous ground-breaking discoveries, including a 5.2m (17ft) skeleton, now known to be an ichthyosaur, when she was just 12 years old.
Twelve years later, she found the first complete skeleton of a plesiosaur, a marine reptile so bizarre that scientists initially thought it was a fake.
Related Internet Links
The BBC is not responsible for the content of external sites.