Cyclists spell 'refugees welcome' across south of England using GPS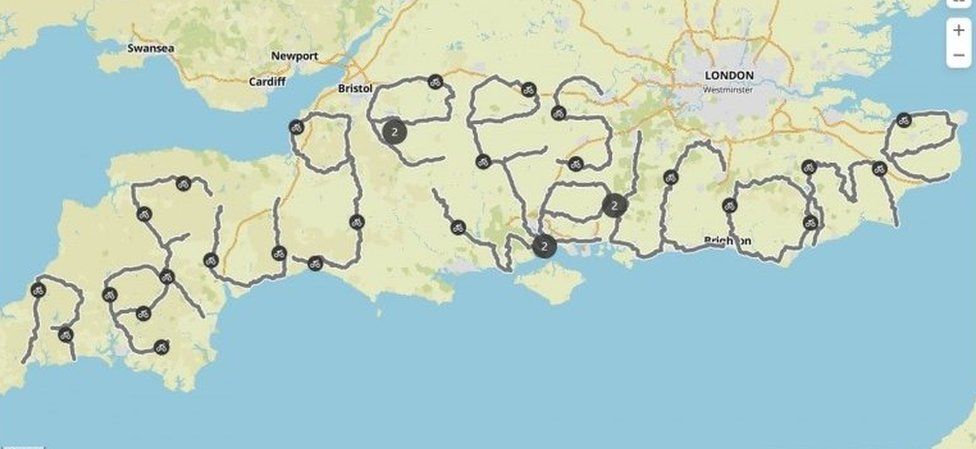 A cycling duo have spelled out "refugees welcome" across the south of England using a GPS tracking app.
David Charles, 39, from Bournemouth, and Georgie Cottle, 26, from Glasgow, raised more than £55,000 for charity on the 1,491 mile (2,400km) journey.
Their ride began on 17 August in St Austell, Cornwall, and ended on 18 September at Dover beach, in Kent.
They were attempting a Guinness World Record for the largest GPS drawing by a bicycle team.
Mr Charles said they undertook the challenge to raise awareness of the "artificial barriers that are thrown up to prevent refugees from getting on with their lives".
The pair, who are members of a community of cyclists called Thighs of Steel, raised the money for refugee charity Choose Love.
Mr Charles said they were "pretty anxious" about drawing the final "e" due to the logistical challenges involved in breaking the record - and because it was the longest ride of the month-long trip.
He added: "The positivity of the 30-strong group of cyclists kept us going, and going, over the huge distance and the Kentish hills and through the unexpected heat."
The success of the challenge, he explained, was down to "hundreds of ordinary people doing a little something to help".
"Whether it's a shopkeeper in South Brent giving us free snacks, a group of hikers on top of Ditchling Beacon emptying their purses into our collection bucket, or a cyclist collapsing in a puddle of sweat on Grateley station platform after riding further than they ever have before.
"These tiny acts of heroism add up to something a little bit special.
"We won't ever forget that moment when we swooped down from the clifftops and into Dover, bike bells ringing, to be met by a cheering crowd."
A Guinness spokesperson told the BBC: "We look forward to receiving the evidence for our records management team to review."
Related Internet Links
The BBC is not responsible for the content of external sites.