Remembrance poppy display of recycled bottles in Dorchester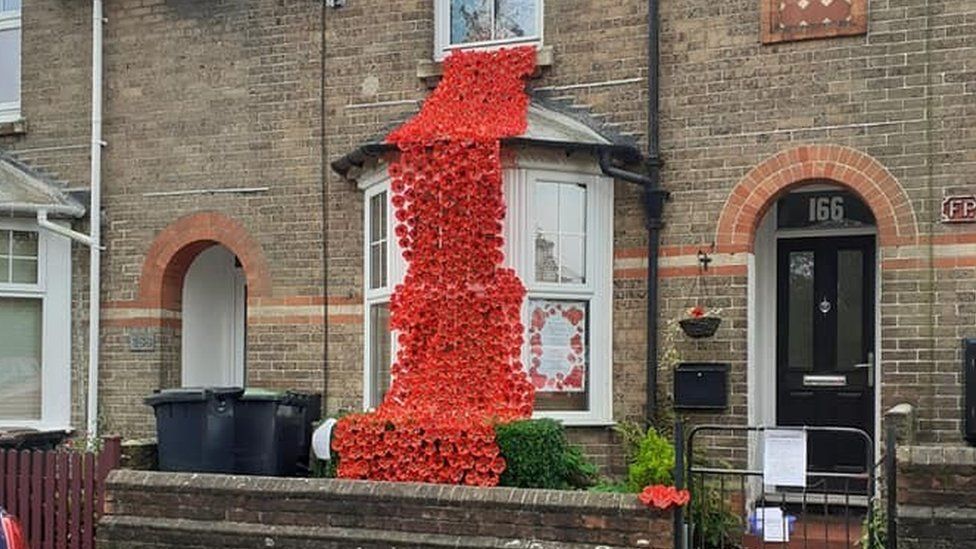 A woman has created a remembrance display made out of hundreds of used plastic bottles for charity.
Fiona Hooper made the cascade of poppies, each individually cut out from the bottom of fizzy drinks containers, at her home in Dorchester.
She has, so far, raised more than £250 for the RAF Benevolent Fund.
As part of the display, Ms Hooper has written a poem called Where Poppies Bloom, which can be seen in her window.
Ms Hooper said she started work on the project in January and estimated she used about 1,000 bottles to create the display at her house on Monmouth Road, many donated by friends and neighbours.
She said: "I'd get home and there'd be more bottles on my doorstep. One friend even sent me some from Derbyshire.
"The cascading effect was kind of inspired by the Wave display at the Tower of London [in 2014 ] which went on to tour the country."
Ms Hooper, whose father was in the RAF, is a regular fundraiser for the RAF Benevolent Fund.
She had sold Vulcan-bomber-shaped biscuits at the Royal International Air Tattoo in Gloucestershire, in the years before the event was cancelled due to Covid-19.