Sir Richard Sutton: Thomas Schreiber felt 'unloved' by family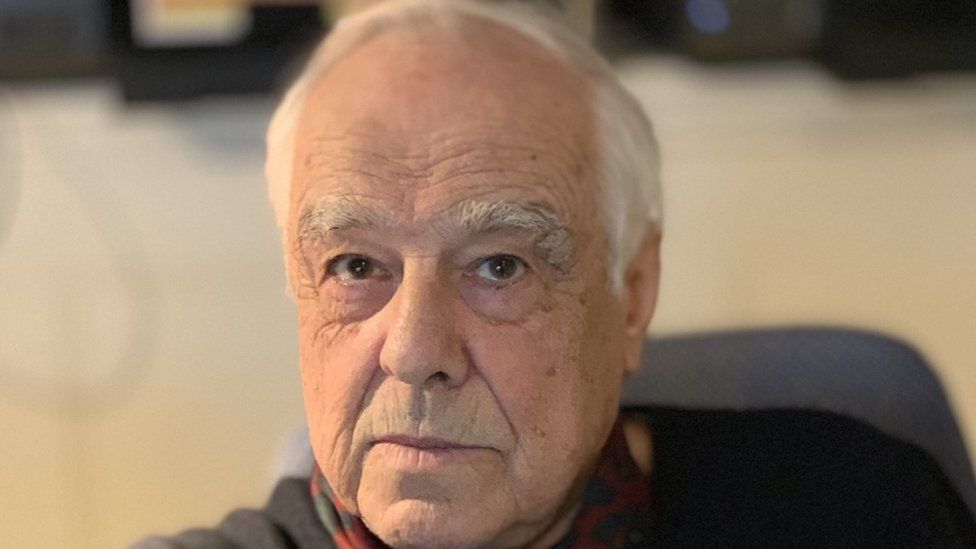 The man accused of murdering millionaire hotelier Sir Richard Sutton "felt unloved and unwanted" by his family, a court has heard.
Sir Richard Sutton, 83, was stabbed to death in April at his home near Gillingham, Dorset, and his partner Anne Schreiber was seriously injured.
Thomas Schreiber, 35, denies murder and attempted murder.
Friend Graham Booth told his trial he had been "concerned" about the defendant's mental health.
Police were called to Moorhill, the couple's home in Higher Langham, near Gillingham, Dorset, at 19:30 BST on 7 April.
Sir Richard was found dead outside his upstairs bedroom. He had been stabbed at least five times.
Ms Schreiber was found severely injured in the kitchen, before being carried out by police officers to waiting paramedics.
Giving evidence, family friend Graham Booth said that he had been worried about the impact of Schreiber living at home with his mother and Sir Richard.
He said: "It seemed extremely dysfunctional. He was not at all keen on Sir Richard.
"He felt unloved, unwanted and regarded with a degree of disdain by his mother and Richard."
He told the court that the death of the defendant's father, David, eight years to the day before the fatal attack, had a "very bad impact" on Schreiber.
Mr Booth, 61, added that he believed the defendant felt "trapped" by the £1,000-a-month allowance from Sir Richard, which made it harder to become independent.
Tommy Clark, 45, who used to share a flat with the defendant, also told the court that lockdown had a detrimental effect on Schreiber, and forced him to remain living at Moorhill.
He said: "He couldn't wait to have a social life, he hated lockdown, hated the scenario he was in and he desperately wanted to move out.
"I would describe a gradual decline and increased desperation, based on how negative he seemed and how unhappy he was with the lockdown situation."
"He wanted desperately to move out [from Moorhill], he wanted to find his place in the world."
Schreiber has previously admitted the manslaughter of Sir Richard and pleaded guilty to driving a Range Rover dangerously on the A303, A4 and M3.
Sir Richard was listed at number 435 in the Sunday Times Rich List last year, with an estimated family fortune of £301m.
Related Internet Links
The BBC is not responsible for the content of external sites.