Sir Richard Sutton: Thomas Schreiber 'was isolated' by lockdown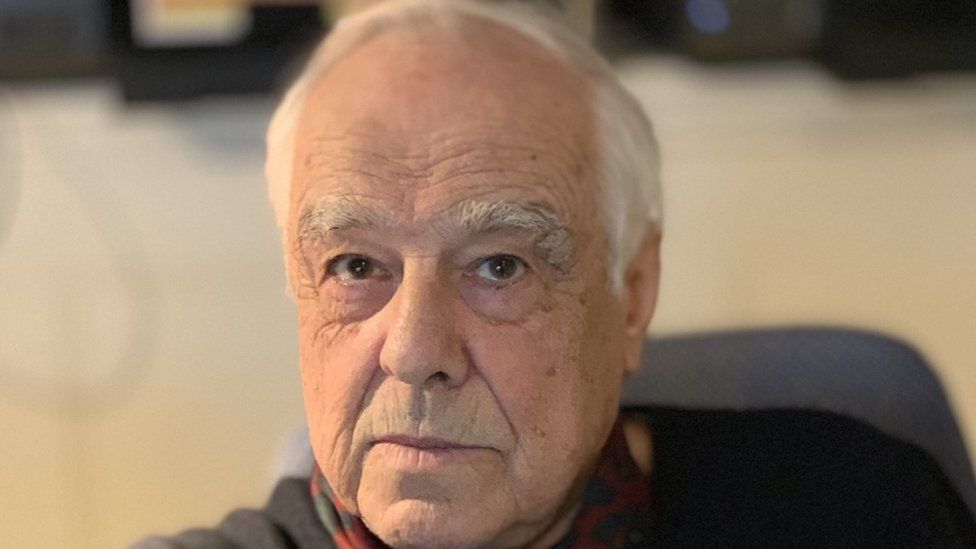 The man accused of murdering millionaire hotelier Sir Richard Sutton was "isolated" because of the lockdown, a court has heard.
Sir Richard Sutton, 83, was stabbed to death in April at his home near Gillingham, Dorset, and his partner Anne Schreiber was seriously injured.
Ms Schreiber's son, Thomas, 35, denies murder and attempted murder.
A psychiatrist told his trial, at Winchester Crown Court, he had a history of "poor anger control"
The attack on 7 April happened at Sir Richard's Moorhill estate near Gillingham, Dorset, which he shared with the Schreiber family - with the defendant living in an annexe.
Sir Richard was found dead outside his upstairs bedroom. He had been stabbed at least five times.
Ms Schreiber suffered severe injuries and was carried out of the kitchen by police officers to waiting paramedics.
Defence witness, consultant psychiatrist Dr Tim Rogers, told the court that the defendant had a "major depressive disorder" which would have been worsened by family arguments and the Covid-19 lockdown.
Dr Rogers said: "He was using coping mechanisms like meeting friends, then [because of] the effects of the pandemic those coping mechanisms were no longer there.
"He was isolated and essentially locked in this annexe in the middle of these family problems, it's reasonable this had an effect on his mental health."
Psychiatrist Dr John Sandford, called by the prosecution, said he did not consider that the defendant suffered from a major depressive disorder.
He said the defendant had told him: "I am 150% certain if there hadn't been a lockdown, it wouldn't have happened".
Dr Sandford told the jury: "My headline conclusion is he doesn't suffer from a mental disorder, there is no evidence that he has a severe mental illness like schizophrenia or bipolar disorder.
"He was a little bit of a lost soul, he had anger and resentment about his childhood that had never been resolved - he was unhappy but he didn't have a mental disorder.
"He has a history of poor anger control and aggression within his family, it's a possibility drink is a significant factor in this," he added,
Schreiber has previously admitted the manslaughter of Sir Richard and pleaded guilty to driving a Range Rover dangerously on the A303, A4 and M3.
Sir Richard was listed at number 435 in the Sunday Times Rich List last year, with an estimated family fortune of £301m.
Related Internet Links
The BBC is not responsible for the content of external sites.