Dorset Police officer lost control of crashed drone, report finds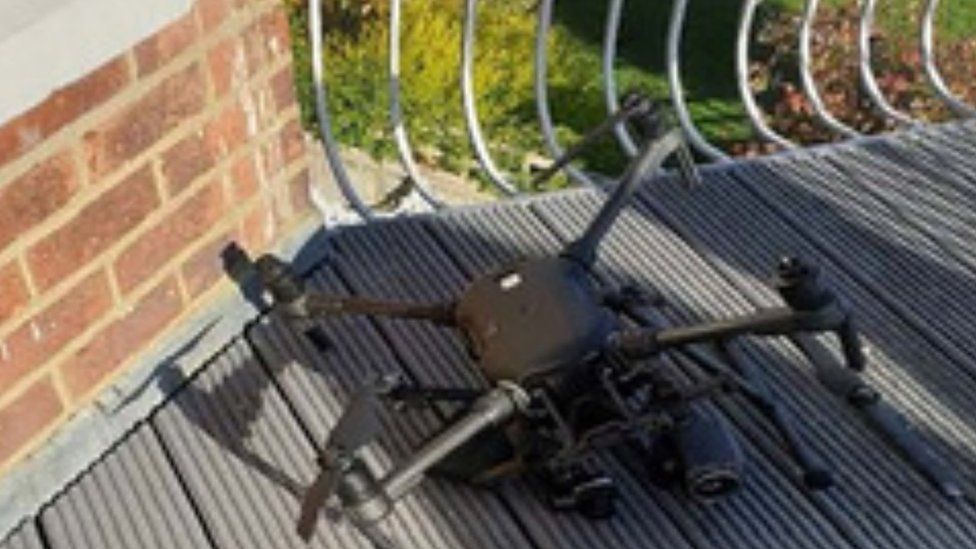 A police officer operating a drone lost control of it before it crashed into a house, a report has revealed.
Dorset Police was using the device in Poole at 120m (400ft) when wind gusts exceeded those forecast and were in excess of the manufacturer's limit.
Experts found people "could have been seriously injured" by the drone's propellers had they been on the first floor balcony of the house it hit.
The force said it "co-operated fully" with the investigation.
The Air Accidents Investigation Branch (AAIB) said one of the drone's two batteries was disconnected shortly after take-off at about 11:50 GMT on 11 November 2020. That reduced its maximum speed.
The drone advised the pilot to "fly with caution" but stronger than expected winds meant he could not fly it back to him, the AAIB found.
There was also no wind speed display on the app being used by the officer to control the drone so he was unaware it was over the limit.
After communication with the pilot had been lost, the drone entered an auto-land mode - but it was unable to stop itself hitting the wall of the house.
The AAIB made three safety recommendations to the drone's manufacturer, DJI, and one to the Civil Aviation Authority over flying guidance.
A Dorset Police spokesperson said it had "co-operated fully with the AAIB throughout its investigation" and that the drone was deployed "in line with manufacturer regulations" in November 2020.
Recording wind speed and direction is included in the force's pre-flight checks and "where this exceeds the manufacturer's recommendations, a drone is not deployed as air safety is a priority".
They added their drones have been updated to ones with a "higher wind resistance capability".
"While there were no formal recommendations for the force, a number of learning points were implemented, including ensuring that all pilots have up-to-date training and the introduction of a buddy check system," they said.
Related Internet Links
The BBC is not responsible for the content of external sites.