Pilot lost control of helicopter before Dorset crash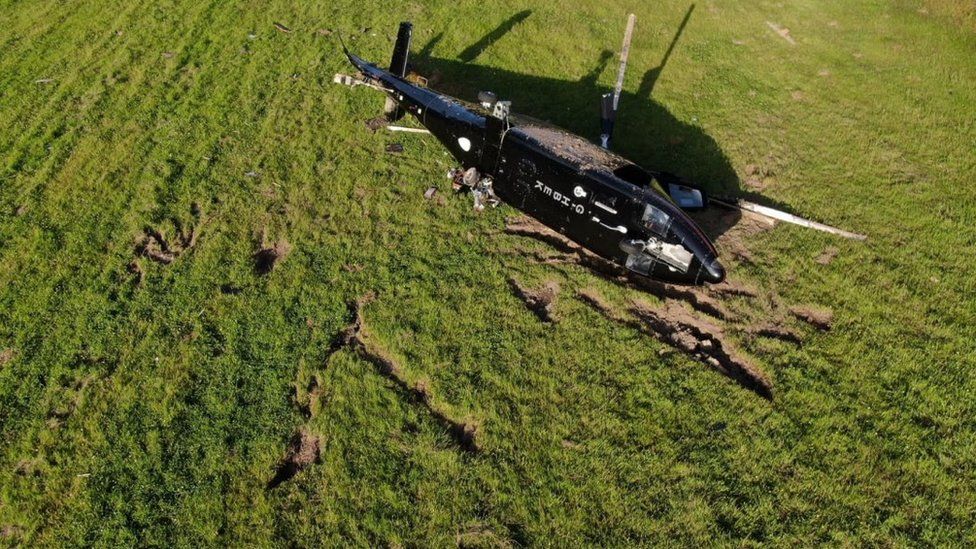 A pilot who lost control of the helicopter he was flying was knocked out during the crash, a report found.
The 50-year-old suffered minor injuries near Organford, Dorset, on 15 July 2021. He was flying from a private site in Dorset to an aerodrome in Somerset.
The Agusta A109C (G-HBEK) was damaged beyond repair.
The pilot took off on his way to Dunkeswell Aerodrome but quickly found the landing gear would not retract so he kept his speed below 110 knots - under the landing gear operating limit of 120 knots, the report said.
After failing to fix the problem, the man decided to return to his departure point.
He told investigators he had experienced this problem with the landing gear previously and understood it was an issue with the "weight on wheels" sensor.
But on approaching the landing site, the helicopter suffered an "uncontrolled yaw" to the right.
The pilot was unable to regain control, chose to cut the power and the helicopter hit the ground.
The Air Accidents Investigation Branch (AAIB) said a "loss of tail rotor effectiveness, loss of tail rotor authority, or a combination of both, were possible causes of the pilot losing directional control of the aircraft".
It added in the absence of a mechanical defect, it was possible the craft was "operating close to or at the controllability limits".
Related Internet Links
The BBC is not responsible for the content of external sites.