Air ambulance pilot 'privileged' to fly helicopter she designed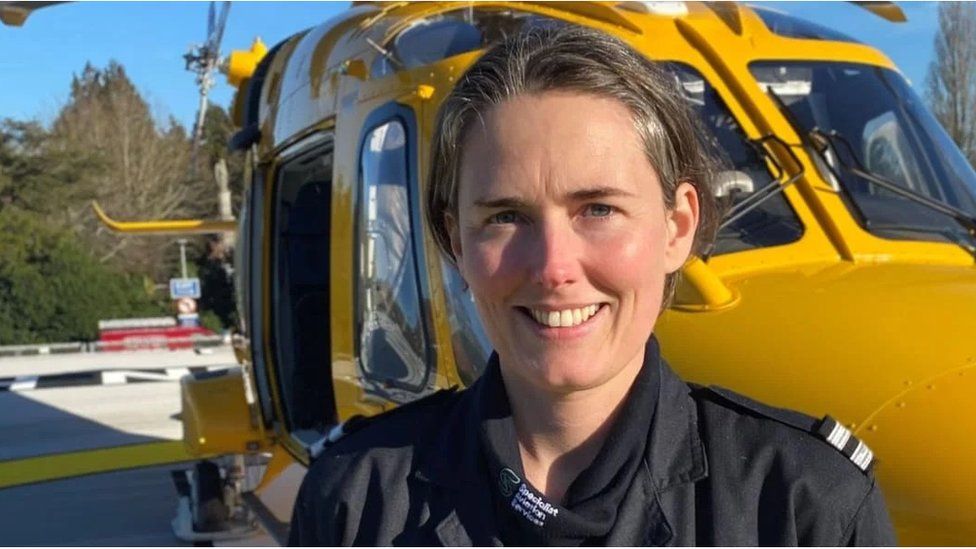 Dorset and Somerset Air Ambulance's first female helicopter pilot has said it is a "privilege" to do her job in an aircraft she helped design.
Hannah Nobbs qualified as a pilot in 2005, but the cost of training and maintaining her licence meant it was 15 more years before she reached her goal.
She says people are usually "quite surprised" when they find out her job.
"I am the only female pilot they have had so far but I'm hoping it becomes a bit more normalised," she said.
Ms Nobbs said she had not always wanted to be a pilot, but a trial helicopter lesson on her 16th birthday left her hooked.
After studying aerospace engineering at Southampton University, she landed a job at Augusta Westland, now Leonardo, in Yeovil, Somerset, which saw her work on the AW169 - the same aircraft she flies today.
She won a scholarship to complete her pilot's licence but, after qualifying, the continuing cost became unaffordable.
While in Yeovil she began volunteering for the air ambulance charity, based in Henstridge, Dorset, giving talks and helping at events.
But it was some years later, with the help of loans and a scholarship from the British Women Pilots Association, before she was able to complete her commercial licence.
She said: "I've always loved helicopters but I need a purpose for flying because it's a lot of fuel to burn just to burn holes in the sky.
"To be able to serve the community and fly the helicopter I helped design and build, it's a privilege to fly something I know some of the background of."
Ms Nobbs' training involved instrument flying, which allows her to operate in cloud, and night flying.
She said: "The environment we work in comes with extra risk because we are landing at sites we haven't been to before so we are surveying them as we land during the day but we are also landing in sites we haven't been to at night and for that we use night vision goggles.
"It's a baptism of fire for someone like me who wasn't in the military and paid for my training, which is why it took me so long to get there.
"It's a very expensive thing to get into but it's the best job in the world, I can't recommend it enough."
Related Internet Links
The BBC is not responsible for the content of external sites.