CS spray man in legal action against Essex Police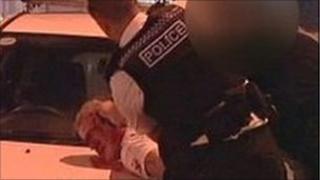 A man allegedly sprayed with CS spray during his arrest in Essex is considering legal action against police after his conviction was quashed.
Alan Lethbridge, 29, of Colne Drive, Romford, was found guilty in April of spitting in the face of a paramedic who was trying to tend his head injury.
He had been arrested during a night out in Brentwood on 13 September.
He won an appeal against his assault conviction at Basildon Crown Court on Friday.
A police inquiry was begun into the arrest and two officers suspended pending an investigation by the Independent Police Complaints Commission.
Anti-depressants
Mr Lethbridge, a builder, was detained after an alleged scuffle outside O'Neill's pub in the town's High Street.
It was said that he deliberately spat saliva and blood at the male paramedic following his arrest.
He was initially also charged with being drunk and disorderly and using threatening words or behaviour, which were both withdrawn on 24 September.
Speaking outside court on Friday, Mr Lethbridge said that as a result of the incident he had been off work for eight months, had received counselling and been prescribed anti-depressants.
He said he was delighted at the conviction being quashed and that he hoped to get his life "back on track".