Alcohol seized in customs Essex raids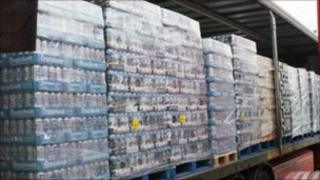 More than 209,000 litres of beer and Spanish wine have been seized in customs raids in Essex.
Industrial sites in Thurrock were raided by HM Revenue & Customs (HMRC) officers on Tuesday evening.
More than 350,000 cans of beer and almost 40,000 bottles of wine were seized. An estimated duty of £267,000 had not been paid.
Mark Allison from HMRC said: "Alcohol fraud damages businesses, cost jobs and takes money from public services."
No arrests have been made but inquiries into the seizures were continuing, he added.