Man dies when powerboat 'flips over' at Essex event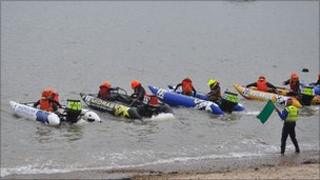 A man died when the boat he was in "flipped over" after hitting a wave during the European and British National Powerboat Championships in Essex, police say.
The incident happened at about 1600 BST on Saturday during the 2010 Harwich Powerboat Festival.
Essex Police said another man in the boat suffered a head injury, while a man in a second boat was also injured.
A police spokesman said the force's marine unit was investigating.
He said the powerboat "appears to have flipped over".
Cardiac arrest
"Two other boats stopped to help but sadly one man has died," he added.
A police spokeswoman added it was thought the boat had struck a wave before it overturned.
An East of England Ambulance Service spokeswoman said the dead man, who was thought to be aged about 60, went into cardiac arrest and was confirmed dead at the scene.
The other injured men were taken to hospital.
A spokeswoman for the event declined to make any comment about the incident.
The Marine Accident Investigation Branch said it was aware of the incident but a spokeswoman said it had no plans to send any inspectors "at the moment".
The championships are being held in Harwich for the first time. The police spokeswoman said no decision had been taken about whether the event would take place on Sunday.