Essex Police officer cleared in arrest attack case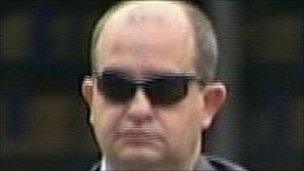 A police officer from Essex who denied assaulting a man who later died in an unrelated incident has had his case thrown out of court.
Pc David Hirst denied assaulting Stuart Smith during an arrest in Colchester in September 2009.
Mr Smith died three days later but his funeral was delayed for 71 days while police investigated his death.
Two days of a trial had been heard at Southend Magistrates' Court before the case was thrown out by a judge.
Taking the stand earlier, Pc Hirst said he knew Mr Smith as an aggressive person who was believed to have hepatitis linked to his drug use.
He saw him being arrested and went to help, he told the court.
He said Mr Smith bit him, so he then gave him a blow to the shoulder.
He said he put his foot on Mr Smith's head "for just one second" before his foot fell to floor.
Asked by Nigel Lithman QC, defending, why he did this, he replied: "To control and restrain him."
Jamie Sawyer, prosecuting, said the officer had used "substantial force", which he denied.
District judge Kevin Gray, presiding at court, threw out the case, dismissing the charges against Pc Hirst.
Ch Supt Dave Folkard said: "Essex Police expect the highest standards of its officers and when there are concerns around their actions will act immediately.
"We referred this matter to the IPCC and investigated it thoroughly.
"Consideration will now be given to whether the officer should face misconduct proceedings."
Related Internet Links
The BBC is not responsible for the content of external sites.