Police crackdown on under-age drinking in Essex town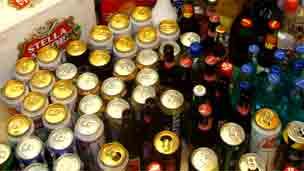 A crackdown on under-age drinking by police in Essex has resulted in a large haul of confiscated alcohol.
The operation in Shoebury has also brought a reduction in anti-social behaviour, a police spokeswoman said.
Officers have been patrolling the Four Rivers estate in Shoebury and seizing alcohol from under-age drinkers.
"Estate residents told us earlier this year there was a problem with youths drinking alcohol so we set up this operation," Sgt Ian Hughes said
Each of seven off-licensed shops in the town now use different coloured carrier bags so police can easily trace back drink taken from under-age people.
"We have also increased our patrols in the area, especially on Friday and Saturday nights," Sgt Hughes said.
"We have also been approaching groups of youths and taking their alcohol away from them and offering suitable advice.
"The Four Rivers estate is also set to become a no-alcohol zone in the very near future.
"Our robust approach to the problem has already seen a real reduction in reported incidents of anti-social behaviour."
Related Internet Links
The BBC is not responsible for the content of external sites.