Tottenham's Jermain Defoe fined for driving offences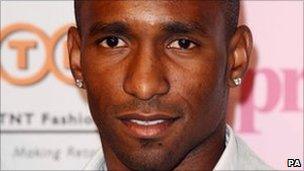 Tottenham and England striker Jermain Defoe has been fined £800 after admitting using a hand-held mobile phone while driving in Essex.
The 28-year-old from Cuffley in Hertfordshire used the phone while driving in Loughton in October 2009.
He was sentenced at Chelmsford Magistrates Court having admitted the offence in writing to Witham magistrates on 27 August.
Defoe was given three points on his licence and now has 11 points.
Twelve points usually leads to a driving ban.
Defoe was pulled over by police while using the phone in his black Range Rover.
District crown prosecutor Frank O'Toole said: "We take motoring offences very seriously and driving while using a mobile phone means the driver poses a significant danger to other road users as he is not giving his full attention to his driving or the road."
As well as the fine and points, the footballer was ordered to pay £930 costs and a £15 victim surcharge.
In January Defoe was fined £400, ordered to pay £45 costs, a £15 victim surcharge and given four points on his licence, after admitting driving at 45mph in a 30mph zone in Portsmouth, on 8 May 2008.
At the time he admitted the speeding offence, Defoe was already disqualified from driving for six months for other speeding offences.
His other driving offences were four points for speeding on 4 October 2008 and six points for speeding on 18 April 2009.
He was disqualified from driving for six months on 14 July 2008 and received a further six-month ban on 10 July 2009.
Related Internet Links
The BBC is not responsible for the content of external sites.