Patrols aim to curb hare coursing in Essex village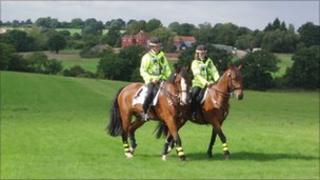 Mounted police hope their patrols of an Essex village will help curb hare coursing following reports of illegal activity.
Growing hare numbers in the "beautiful" area around Rettendon are attracting coursers, police said.
Dogs hunting a hare are awarded points for causing it to swiftly alter direction and for catching it.
Essex Police said it will carry out high-visibility patrols in hotspot areas.
Mounted officers and their horses will enable police to get to areas not easily accessible to vehicles, and to respond quickly to any incidents, police added.
'Significant damage'
The Hunting Act 2004 makes it an offence to participate in, attend, or facilitate a hare coursing event, and police have the power to seize vehicles and dogs involved.
Officers also have powers under the Police Reform Act 2002 to act against a person driving a vehicle on land which does not form part of the road system.
Hare coursers frequently drive through fields to get to their final location, causing significant damage, police said.
Richard Bowe, manager of Ilgars farm in Rettendon, said: "Hares aren't a pest, they're an attractive part of our countryside, and we don't like seeing them hunted and killed.
"We're also concerned because hare coursers have caused thousands of pounds of damage to local fields."
Richard Smith, of the nearby Royal Horticultural Society gardens at Hyde Hall, described the moment when a dog catches a hare as a "horrible sight".
Anyone with information on hare coursing should contact police.