Injunction extended at ex-traveller site in Basildon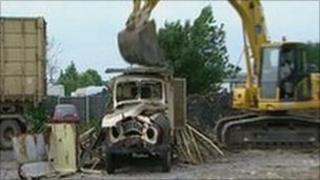 An injunction preventing travellers from moving back to land in Essex has been extended at the High Court.
Earlier this month, seven illegal pitches were cleared at Hovefields Drive in Basildon.
Basildon Council told the High Court there was a real risk the site could be re-occupied.
The judge, Mr Justice Edwards-Stewart, said there had been no violation of travellers' human rights and he extended an interim injunction.
He said any unlawful occupation of the sites would now be subject to "criminal sanction".
Any impact on travellers who own or have occupied the sites was "far outweighed" by the need to uphold effective planning control, he added.
Copies of the injunction will be posted around the site at Hovefields Drive and another plot close by.
If there are no objections, the council intends to make another application to the court to make the injunction final, the court heard.
Hovefields has been the subject of a number of enforcement notices dating back to 1998.