Fiona Bruce harasser detained under mental health laws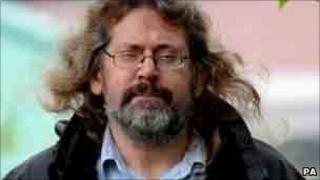 A man who harassed BBC newsreader Fiona Bruce by sending her "love messages" has been detained in hospital under mental health laws.
Messages from Peter Oakey referred to Ms Bruce as "my beautiful firebird", Basildon Crown Court heard.
Ms Bruce, 46, was "distressed" by cards signed "your kingfisher and loving husband", sent by Oakey, 51, from Brentwood, Essex.
Judge John Lodge ordered him to be detained in hospital.
Psychiatrists who carried out tests said Oakey was mentally ill and suffering from "persistent delusional disorder".
He had "delusions of passion" and believed that Bruce loved him and he loved her, the judge heard.
Judge Lodge said he was satisfied that Oakey was suffering from a mental disorder and satisfied that the "nature and degree" of the illness made compulsory hospital treatment appropriate.
Oakey's representative, Maria Dineen, said it was "rather inappropriate" to call him a stalker as he had never expressed any desire to harm Miss Bruce.
Doctors' 'covenant'
He had never attempted to meet her, asked to meet her or followed her.
Oakey felt that doctors were part of a "covenant" against him, the court heard.
Prosecutors said Oakey had a history of "conduct of a similar nature" dating back to 2002.
He breached restraining orders several times and between February and May 2009 sent more flowers and cards addressed to Miss Bruce at BBC Television Centre in London.
He had previously appeared in court after writing "offensive" messages to a number of shops - including Boots and Sainsbury's - a church, a hospital and a doctor's surgery, Judge John Lodge was told.
Ms Bruce had made a statement saying Oakey's behaviour left her "upset, disturbed and distressed", the court heard.
Cards to her were inscribed with the words, "I love you Fiona my beautiful firebird", and were signed, "Your kingfisher and loving husband Peter".
On at least one card he had also written: "Time to get down and attend to business."
Oakey also made references to pieces of music on the cards, including Find My Love by Fairground Attraction and Gipsyrock by the Gipsy Kings, the court was told.
Ms Bruce made a statement in 2008 in which she said, "[It is] causing me great upset and I find [it] sinister and disturbing.
"I don't want him to contact me. It is causing me distress and I am also concerned this behaviour may escalate."