Harlow set for market area overhaul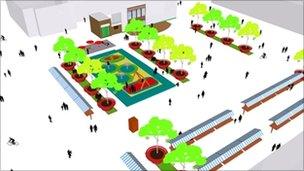 A market square in an Essex town is to be revamped with a performance area for music events.
Harlow Council has given the go ahead for the plans to revitalise Stone Cross with modern stalls.
The square will be resurfaced, benches put in and more trees planted to create defined areas to make it feel less windswept, the council said.
Construction work is expected to take a month and is provisionally set for mid-February 2011.
The council said it was consulting with stall holders over temporary arrangements while the work is carried out.
Russell Perrin, chairman of the regeneration and enterprise policy working group, said: "We will replace the ageing metal stands with new stalls and make this an open plan area that people will want to spend time in and enjoy."
Related Internet Links
The BBC is not responsible for the content of external sites.