Farmer shooting fox accidentally hit burglars in Essex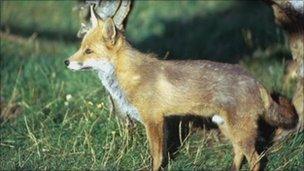 An Essex farmer who accidentally shot and wounded two burglars raiding a cannabis farm he did not know existed will not face prosecution.
Edward Tibbs, 62, woke in the early hours of 19 August at his 650-acre arable farm in Crays Hill, Billericay, and went out on his mobility scooter.
He said he fired three times, aiming at a fox trying to steal geese.
However, he hit two men trying to break into an outhouse he had rented out, which contained a secret drugs factory.
The men suffered gunshot wounds to their backs and legs and hospital doctors contacted police.
Later in the day a team of police marksmen, accompanied by a police helicopter, arrested Mr Tibbs on suspicion of attempted murder.
Mr Tibbs, who suffers multiple sclerosis and neuralgia, said the three-month police investigation had "devastated" his family and business.
He said of the shooting: "It was pitch black. There are no lights here at all. I came out of lights, the house, and saw the fox.
"I never knew I had hit anyone, no screams or hollering, no nothing. I just came back indoors."
He said of his arrest: "We had a helicopter overhead and 12, 14, 16 police officers like you see on TV with crash helmets and machine guns.
"They were everywhere and took me away."
Essex Police said the two injured men were released without charge.
A spokesman said Mr Tibbs had since lost his firearms licence because he could "present a danger to public safety or the peace".
Related Internet Links
The BBC is not responsible for the content of external sites.