New £470,000 mammography machine at Essex hospital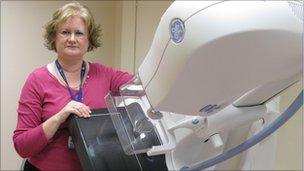 A fully digital mammography machine has gone into service following a £470,000 investment at an Essex hospital.
The new machine at the County Hospital in Colchester enables images to be viewed on computer screens and sent to experts at the push of a button.
The machine cost £247,000, £110,000 of which was from charitable donations.
Rooms to house the machine, ultrasound equipment, archives and an area to examine images cost £223,000 to build.
Monica Dale, superintendent radiographer, said: "The machine is being used alongside the two traditional analogue machines at Essex County Hospital.
"But our plan is for the service to go completely digital over time, in line with the general trend in imaging.
"It's a more efficient system than the traditional film x-ray and allows us to take images of more women in the same amount of time.
"Women having mammograms on the digital machine will notice very little difference.
"Each examination not only takes less time but involves less effort too for staff.
"We can also reduce our expenditure on film and chemistry."
Related Internet Links
The BBC is not responsible for the content of external sites.