Pier closes for repairs to damage caused by weather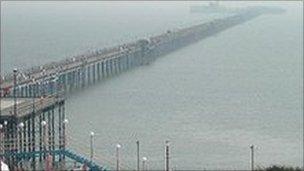 Recent snow, ice and freezing temperatures have damaged Southend Pier and it has been closed to the public while repairs are carried out.
Southend-on-Sea Borough Council said the extreme weather had caused "health and safety" issues.
"The pier will remain closed over the Christmas Bank Holiday period to enable contractors to access the structure.
"They will carry out emergency remedial works," borough council deputy leader John Lamb said.
"Unfortunately the recent snow, ice and freezing temperatures have hit the pier hard.
"The extreme weather recently caused a number of health and safety works which now have to be carried out as a matter of urgency.
"I would like to apologise to anyone inconvenienced by this temporary closure."
The Pier Visitor and Information Centre will be closed on Christmas Day but will remain open throughout the rest of the holiday period.
Southend Pier was shut for five days in January this year for work on the walkway ramp.
The pier and a pub, gift shop and restaurant on it were partially destroyed in a fire in October 2005.
At 1.34 miles (2.16km), Southend Pier - opened in 1889 - is one of the longest pleasure piers in the world.
Related Internet Links
The BBC is not responsible for the content of external sites.