Colchester Zoo keepers take stock of animals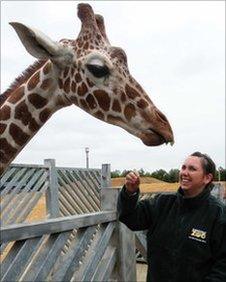 Keepers at a zoo in Essex are conducting a stock take of its animals, including the "trickier" task of counting small, fast-moving species.
Records at Colchester Zoo are updated at the end of each year to allow for births, deaths and exchanges with zoos.
This is given to animal management network ISIS, which collates worldwide figures, the zoo said.
Giraffes and elephants will be easier to count than leaf cutter ants and tiny fish, it added.
Animal records officer Claire Saunders said: "With some species such as the leaf cutter ants it is possible to take an estimate of likely numbers, otherwise it would be a real headache getting them all to stay still enough long enough to have an accurate count."
The zoo has had numerous births in 2010, including a giant anteater, pied tamarins and Waldrapp ibis chicks.
In September, two sun bears saved from "certain death" in Cambodia were brought to the zoo.
The zoo's lion, Subu, was put to sleep in April and its Siberian white tiger, Sasha, died in December.
Related Internet Links
The BBC is not responsible for the content of external sites.