Girl dies after car mounts pavement in Colchester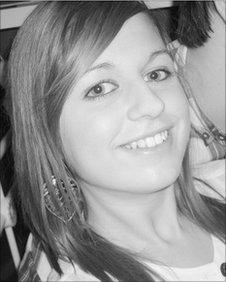 A girl has died after being hit by a car driven by an 87-year-old man in Essex.
Cassie McCord, 16, of Drury Road, Colchester, was with two girls when the car mounted the pavement, trapping her between the car and a shop.
The incident happened on Monday morning in Head Street, Colchester.
Cassie's mother, Jackie McCord said: "Cassie's organs have been used to save others, which was her wish, and to ensure that she did not die in vain."
The other girls injured in the crash were treated for their injuries and released.
The car driver remains in hospital. One line of inquiry is that he was taken ill at the wheel shortly before the crash.
Cassie was a student at the Sixth Form College in Colchester, where a two-minute silence has been held.
Principal Ian MacNaughton said: "Staff and students at the college are so sad that Cassie has not survived from the terrible accident.
"She will be enormously missed. College staff will do everything we can to support her family and friends."
Tributes were also paid to Cassie on social networking sites.
Anyone who witnessed the incident is asked to contact Essex Police.
Related Internet Links
The BBC is not responsible for the content of external sites.